CHRONIC MYELOPROFIRATIVE NEOPLASMS
Myeloproliferative neoplasms (MPNs) are a group of rare, chronic blood disorders.
MPN mainly affects the ability of bone marrow to produce normal blood cells.
In this excessive production of red blood cells, white blood cells and platelets.
Myeloproliferative means abnormal proliferation or overgrowth of cells in the bone marrow that increase the no. of mature blood cells.
TYPES:-
Polycythemia Vera: – in this, over production of RBCs.
Essential thrombocythemia: – over production of platelets.
Primary myelofibrosis: – abnormal production of blood cells mainly RBCs.
CAUSES:- the exact causes of myeloproliferative neoplasm in unknown.
Some genetic mutations such as JAK2, CALR and MPL are commonly associate with MPNs.
It is mainly occurs in 60 or above years of age.
Some preexisting conditions such as autoimmune disorders, MDs, Chronic inflammations etc. have higher risk of developing MPNs.
MYELOPROFIRATIVE NEOPLASMS SYMPTOMS:-
Bone pain or joint pain.
Loss of appetite.
Abdominal discomfort or pain.
Petechiae.
Night sweats.
Weakness and fatigue.
Hepatomegaly and splenomegaly.
Weight loss.
Bleeding and bruising easily.
Lymph nodes swollen.
Pale skin.
Shortness of breath.
INVESTIGATIONS:-
CBC:- to check the range of blood cells such as RBCs, WBCs, Platelets etc.
Bone marrow biopsy and aspiration.
Flow cytometry.
X-ray, MRI, CT SCAN.
Lumbar puncture: – to detect the MRNs cells in CSF.
MYELOPROFIRATIVE NEOPLASMS HOMOEOPATHIC TREATMENT:-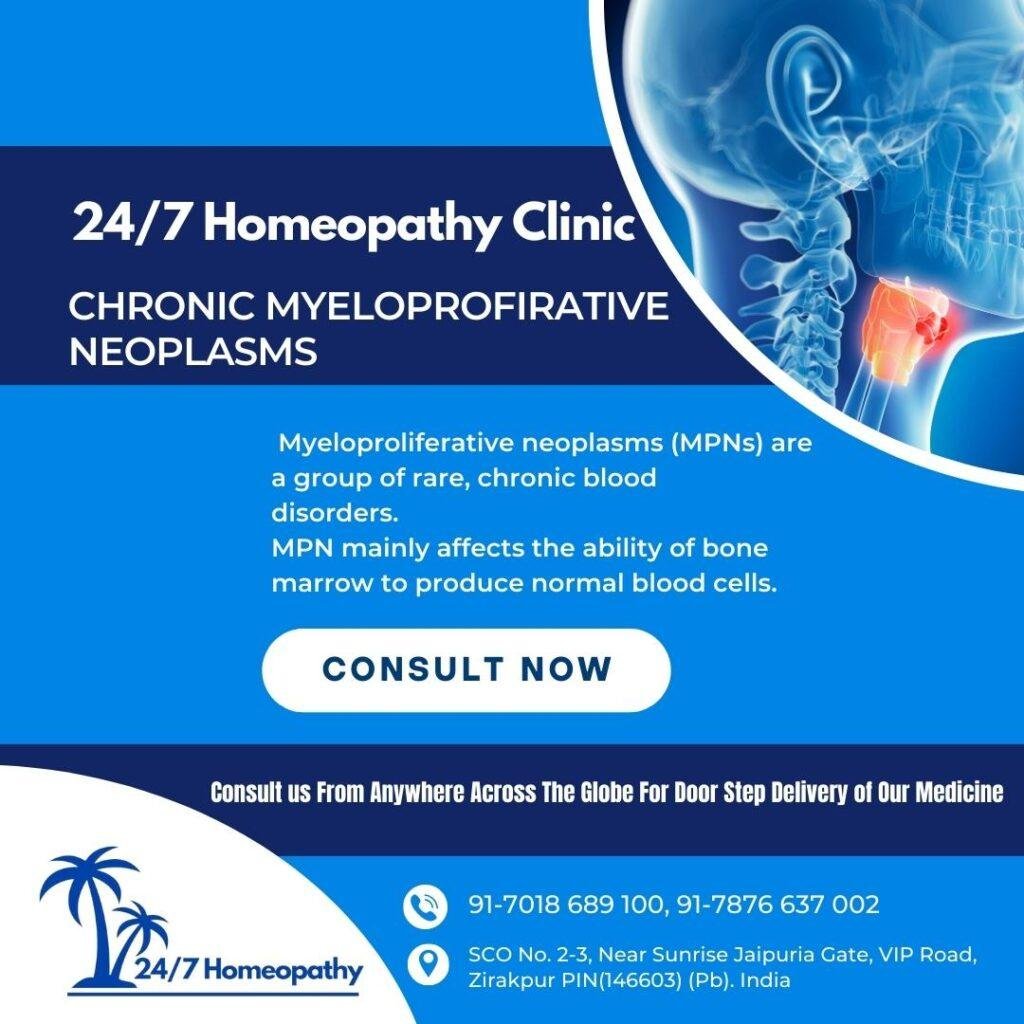 T.N.T.:-
– The main action of T.N.T. on the RBCs.
– Leukemia.
– Anemia and jaundice.
– Epistaxis.
– Tendency to hemorrhages under skin.
– Fatigue.
– Breathlessness, dizziness, headache.
BENZOLUM:-
Decrease of RBCs and increase of WBCs.
Leukemia.
Hallucinations, epileptiform attacks.
Dizziness.
Right sided headache.