B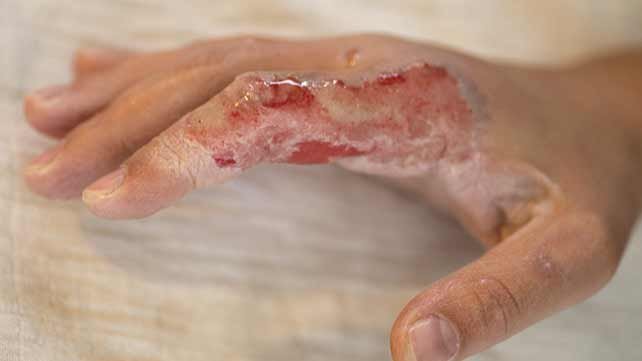 Burns With Homoeopathic Management
Introduction burns are tissue damage due to overexposure to sunlight or heat, any kind of radiation, or chemical contact,or electrical burns on the skin. Burns are divided into 3 categories according to the severity of the burns. It can be life-threatening sometimes or sometimes just minor medical treatment is required.
Causes of burns
Due to overexposure to sunlight Excessive In heat contact Electrical shock at high voltage Chemical abuse
Fire
Hot metals, like glass.
Types of burns
According to its severity, it divided into 3 degrees
1-degree burn
This minor burn affects only the outer layer of the skin. It shows some general symptoms like redness and pain or slight discolouration of the skin.
2-degree burn
It affects the upper and second layers of the skin dermis. It may show swelling redness white or splotchy skin on the affected side. Deep second degree may cause scarring permanently.
3-degree burn
It affects the fat layer of the skin. The skin may be black, red, white or brown in colour. It can occur due to heavy fire contact, electrical or any chemical abuse.
Complication
On first degree burns, there may not be such a serious type combination.
In a high degree of burn, there may be a bacterial infection, which may lead to sepsis.
Fluid loss may lead to hypovolemia
Low body temperature hypothermia.
Prevention
Keep hot liquids out of child reach,
Cover unusual electrical outlets,
Keep chemicals out of children's reach,
In the working area, be sure there may be a smoke detector.
Homoeopathic medicines for burns.
Cantharis:
This is the first choice of remedy for burns.
Homoeopathic medicines at the initial stage have a remarkable tendency to relieve burning pains and prevent blister formation. Help in 1st and 2-degree burns can be very effectively handled by cantharis.
Urtica urens:
it has remarkable results in ist degree burns.
Burning, stinging pains, which are swollen or red in colour.
Causticum:
It speeds up recovery of the burns.
It soothes, and causes soreness and pain. It also helps in old types of burns.
Sulphur has normal symptoms of burning.
Calendula:
This is also a very good remedy for burns with pus formation. There may be laceration of the skin. It acts as a preventive agent against the suppuration or pus formation on the affected area. If there may fill the pus then it removes it gradually. Calendula helps in 2 and 3-degree burns.